Campsite in the Hautes-Alpes with activities and kids' club  
Campsite in Serres with kids' club
A campsite in the Hautes-Alpes with kids' club means a successful holiday for the whole family! Our team offers many age-appropriate activities to entertain your children during their holiday in Serres!
Ciela Kids Club (5-12)
Open in high season
Outdoor games
Arts and crafts
Sports tournaments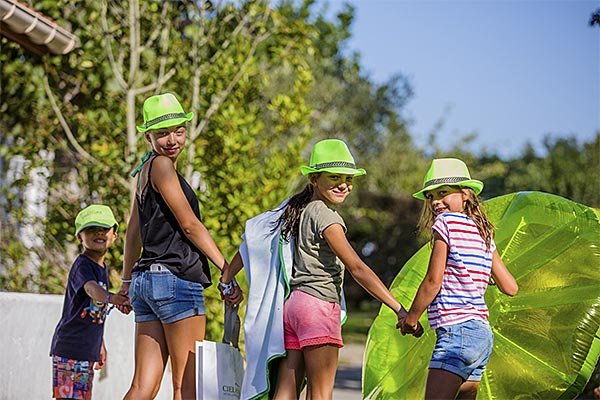 Our entertainment team will take care of your children in July and August. The kids' club is open Monday-Friday from 10:00 AM to 12:00 PM. The club is for children 5-12 years of age. We offer activities such as bracelet making, outdoor games big and small, makeup and archery, for boys and girls alike!
Sports at Our Family-Friendly Campsite
At the campsite, if you wish, you can play sports organized by our team of entertainment in the afternoons, or at your convenience, including:
Petanque tournaments
Ping-pong tournaments
Football
Volleyball
Basketball
Team games
For those hot days at the pool, you can enjoy pool games or a water polo tournament. We provide ping-pong tables, but don't forget your paddles and balls, as well as a multi-sport field and petanque court. You can also go on a hike directly from the campsite. After hiking up 10 minutes, you can choose between 3 trails: an easy trail that takes you to the pretty village of Serres, the more difficult "Le Pas de la Louve", and a very difficult trail for athletes, up to the summit of the Arambre.
Campsite Activities and Evening Events
Here at Les 2 Soleils campsite, we organize concerts. Our evening events end at 11:00 PM to keep the campsite quiet. What a great way to spend an evening with your family at our Hautes-Alpes campsite!
Films for young and old are shown every week in open-air cinema sessions. Many of our campers enjoy having a drink or an ice cream on the quiet snack bar deck while keeping an eye on their children in front of the movie screen. We also have karaoke night and loup-garou games (ages 12 and up).
Activities in and Around Serres
At the welcome cocktail event, you can meet our partners with whom we have worked for years, professionals that will assist you with canyoning, via ferrata, rock climbing, caving or via souterrata (there are only 2 in France and we're lucky enough to have one by the campsite in the Huates-Alpes). You will have a great experience, but beyond that you will explore gorgeous places on land, underground, on the water when you go rafting or in the air when you paraglide!
Before you come to the campsite, you can look up hikes on a variety of websites and plan based on your skill level. Our region has many hiking trails, each more beautiful than the last. You can enjoy them on foot, horseback, or bike.
That's a selection of activities that you can enjoy when you stay with us. There are more, but we can't give everything away!
Markets Saturday morning in Serres – Thursday morning in Veynes and Laragne
Lakes: Spring water lakes that reflect the mountains and the sky, streams and waterfalls…
Recreation: A perfect setting for relaxation and fun with the family: Mountain biking (educational bike path), kids' games, sports, workshops, landscaped natural spaces, picnic area, etc.
Surrounding culture: Villages perched on mountainsides, castles, geological sites, Méouge Canyon, Sisteron Citadel
And much more activities : Fishing, canyoning, canoeing, kayaking, hang-gliding, ultralights, mountain biking, cycling, rock climbing, via ferrata, caving, hiking, horseback riding, and more.