Campsite with Swimming Pool in the Hautes-Alpes
The Provence-Alpes-Côte d'Azur region is known for its remarkable weather and unspoiled nature. During your camping trip to the Hautes-Alpes with family or friends, you need to be able to relax and cool off by the pool. This is why our Hautes-Alpes campsite offers guests a pool area on-site.
We have a 140 m² pool complex naturally heated by the sun, including a main pool, wading pool and water slide. All around the pools, you can relax in the solarium on a deckchair, read a good book or drink a cocktail. Adults and children can have fun right at the campsite. The swimming pool at our Hautes-Alpes campsite is open from mid-June to mid-September 5th, 10 a.m. to 7 p.m. Only bathing suits are allowed, shorts and Bermuda shorts are prohibited for hygiene reasons. At our 4-star Domaine Les 2 Soleils campsite, we offer accommodations for rent (from mobile homes to camping pitches) at our wooded campground surrounded by generous nature, near Lake Buëch and the village of Serres.
Campsite with Pool for Swimming with the Family Under the Serres Sun
Enjoy swimming with your family at our 4-star campsite in the Hautes-Alpes for an unforgettable holiday near Sisteron!
Campsite with Swimming Pool: Fun in the Water Guaranteed!
140 m² swimming pool
Wading pool
Water slide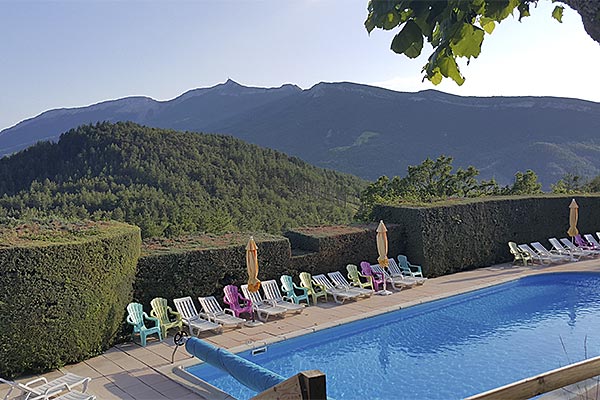 4-star Campsite in Serres with Wading Pool for Children
Les 2 Soleils campsite in the Hautes-Alpes has a swimming pool for the whole family. You don't have to go to the lake to swim with young children during your summer holiday! Even if they don't yet know how to swim, they can enjoy the water in a safe wading pool heated by the sun's rays. Located next to the main pool in the center of the pool area, it is a place to get together and play. The little ones love it! Parents can easily supervise their children. During your stay in the Provence-Alpes-Côte d'Azur, you know that your children will have an unforgettable time at our campsite in the middle of nature. We offer quality accommodations, including comfortable chalets, unique tents and spacious pitches in a family-friendly atmosphere in one of the most beautiful regions of France.
Campsite in Serres with Solarium
While children play on the water slide or in the wading pool, adults can enjoy the solarium with deckchairs and umbrellas during their holiday in the Provence-Alpes-Côte d'Azur.
You can bask in the sun, read a book, get a tan, or take a nap near the pool area: there's nothing like it for relaxation!
At our Hautes-Alpes campsite with swimming pool, the solarium is one our guests' favorite places. They like to hit the pool in the morning or at the end of the day after visiting Lake Buëch or the regional natural parks of the Baronnies Provençales.
A Little Something Extra at Our Hautes-Alpes Campsite with Pool
Right next to the campsite pool area, you will find a space dedicated to relaxation. Our massage therapist comes to the campsite to give you treatments upon reservation, a service that few star-rated campsites offer that will make your stay at our Hautes-Alpes campsite with pool even better. So, treat yourself to an enchanting experience during your family holiday at the campsite and enjoy a relaxing massage.
Ideally located in the Provence-Alpes-Côte d'Azur region near the center of the village of Serres, our campsite offers mobile homes and pitches for rent for all budgets on a wooded campground surrounded by nature, including several places to swim.
So hurry up and go swimming right near the campsite! Discover the exceptional Sisterronais-Buëch, located only a few kilometers from our campsite: Lake Riou, La Germanette, the Méouge Gorges, Lake Rosans, and more.